Descripción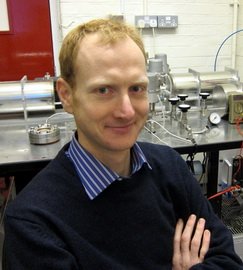 "Geochronological data processing with R and IsoplotR"
Geochronological data processing with R and IsoplotR course will benefit geoscientists who deal with geochronological data, both in academia and industry. It will cater to both novice and advanced users of geochronological data, who want to gain a deeper understanding of the underlying methods. It will also cater to active geochronologists who seek to streamline their data processing workflow using the IsoplotR toolbox.
The first half of the course will provide a very basic introduction to geochronology and does not require any prior knowledge of the subject.
The second half will build on these foundations to explore advanced topics that lead to the cutting edge of the field.
What skills/outcomes will the participants obtain along this course?
A fundamental understanding of geochronological methods and data processing techniques.
The ability to write simple mass spectrometer data processing software 'from scratch' using the R programming language.
Advanced experience with the IsoplotR package for higher order data processing operations, via both its graphical and command line user interfaces.
The necessary statistical background to understand the strengths and limitations of more advanced analytical devices such as isochrons, concordia ages, weighted means and mixture models.
A keen eye to spot common mistakes in published geochronological datasets and interpretations.
The covered subjects are the following:
1 – Fundamental principles of radioactivity, derivation of the fundamental age equation
2 – Simple parent-daughter chronometers (Rb-Sr, K-Ar, K-Ca, Sm-Nd, Lu-Hf, Re-Os)
3 – Basic introduction to the U-Pb method
4 – Noble gas geochronology (Ar-Ar and U-Th-He)
5 – Fission tracks
6 – Error propagation
7 – U-series disequilibrium dating
8 – Introduction to R
9 – Data reduction of LA-ICP-MS and noble gas mass spectrometer data
10 – Isochron regression with correlated uncertainties in all variables
11 – Weighted means, goodness of fit, MSWD, and overdispersion
12 – Common-Pb corrections and discordance filters
13 – Disequilibrium corrections
14 – Mixture models, radial plots and maximum depositional age calculation
15 – Detrital geochronology: kernel density estimation, multidimensional scaling and combination with other provenance proxies
16 – Thermal history modelling of fission track and U-Th-He data
17 – The future of geochronological data processing: logratio analysis of isotopic data
Expert trainer: Pieter Vermeesch, Ph.D.
Dr. Pieter Vermeesch (Bsc. Geology, Ghent; Msc Geosystems, MIT; PhD Geology, Stanford) is a Professor of Geochronology at University College London (UCL) and co-director of the London Geochronology Centre (LGC).
His research interests include geochronology and thermocronology using the U-Pb, Ar-Ar, fission track, U-Th-He and cosmogenic nuclide methods.
Dr Vermeesch develops novel ways to generate and interpret 'Big Data' for sedimentary provenance analysis, by combining detrital geochronology with mineralogical and chemical provenance tracers. He has developed a suite of free and user friendly software to make these tools available to the Geosciences community. He is the author of the widely used IsoplotR toolbox for geochronology, which is the subject of this course
Virtual e-learning design
You will access to the e-learning platform where you can follow your learning process considering your time possibilities.
This particularly course is divided in two consecutive weeks and is delivered in English language only.
At the beginning of the first week we will publish different video tutorials, as a theory-lecture organized presentation, several 10-15 minute clips and give access to different paper-based exercises.
Additional practical exercises are going to introduce you in "R" in which mass spectrometer data are processed from scratch.
All the exercises will be discussed and the professor is going to give feedback to the participants and check in this way the individual learning progress.
For the second week, each topic will be discussed in three sets of video tutorials corresponding to: A) Theory, B) R GUI and C) R command line.
Along the virtual course there is going to be a timeline that will help you to follow the sequence of the video tutorials, the related exercises and the online quizzes design for the different sessions.
The communication process with the expert and the other participants is going to be through an asynchronous forum in the platform.
Daily virtual exclusive synchronic sessions will be delivered by the expert for one hour extension. These virtual sessions are planned to be taped so the participants could watch them in any other time again.
These virtual synchronic sessions are designed to give you the opportunity to interact with the professor and review some of the main topics proposed for the course.
The participants will access to the solutions of all the exercises and expand it with a detailed IsoplotR tutorial and manual.
A certificate for 30 hours course will be obtain after the participants complete the mandatory exercises at the end of the e-learning course.